Back to Hub
Resilinc EventWatch Data: Factory Fires and M&A Activity Rank as Top Disruptive Events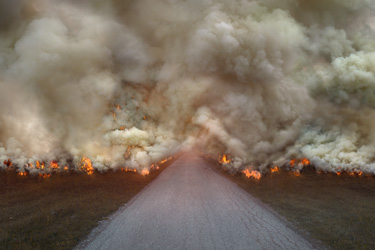 Adobe Stock
Resilinc recently released its 2017 EventWatch Supply Chain Disruption Annual Report, and the top two disruptive event types by a significant margin were factory fires and explosions and mergers and acquisitions.
The report is based off the 2017 data collected by Resilinc's EventWatch software, which monitors and analyzes global events that are potentially disruptive for supply chains and then alerts customers. In 2017, EventWatch published on average five bulletins a day.
Last year saw 343 bulletins on factory fires and explosions, or nearly one out of every five bulletins. M&A activity was the second most frequent supply chain event type, with 324 bulletins in 2017. Other common events were business sales or spin-offs, factory shutdowns or disruptions, and tropical storms.
Source: Resilinc EventWatch
As the chart above shows, the frequency of alerts for factory fires and explosions nearly doubled from 2016 to 2017. Shahzaib Khan, director of EventWatch at Resilinc, explains that this may in part be due to new suppliers that Resilinc onboarded last year.
"Factory fires have always been our top risk type, apart from 2016, when mergers and acquisitions took the top spot," Khan says, "This year factory fire returned to the top. And you'll be surprised that factory fires were actually mostly in the high tech and automotive industry."
Indeed, the automotive industry had the highest number of bulletins in 2017, as well as an increase of 395 bulletins from 2016 to 2017. In comparison, other industries saw an increase of around 300. The top event types were similar for the automotive, life sciences and high tech industries, and for the life sciences industry, M&A activity ranked first.
"When your supplier is being acquired, you should monitor that very closely," said Khan. "It may not have a direct or short-term risk, but over the long term you will see a lot of changes happening in the management."
Bindiya Vakil, Resilinc's CEO, shared a story from her own career: "I was in direct materials management and lived through multiple [M&A situations]. One time we were buying a connector. It was a custom connector for our product, and it was about a couple hundred thousand dollars in terms of spend. But it was completely single sourced. Only one site could make it, and the company got acquired. [Then] the acquiring company said, 'Oh, it's just three or four hundred thousand in revenue. Let's kill this product.' [But] the product that we used that connector on was $4 billion a year in revenue."
In the immediate aftermath of M&A activity concerning a supplier, Vakil recommends picking up the phone and scheduling a meeting to find out what the roadmap looks like. This is crucial for single-sourced items that are used for high-revenue products.
Other notable findings from the report include the fact that for the first time North America was the region with the most supply chain disruptions as a result of natural disasters.
Last year's top five most significant supply chain events, by order of the number of supplier sites affected, were the March storm that hit the Northeastern U.S., the Laredo border closing, Hurricane Irma, Hurricane Harvey and Hurricane Maria.
As 2018 progresses, the report recommends that supply chain professionals keep an eye on the following ongoing events and risks:
Cyberattacks
Geopolitical developments in North Korea
China's efforts to combat pollution, factory shutdowns and manufacturing limitations
NAND flash chip supply shortages
Increased severity of natural disasters
Check out the full Resilinc EventWatch report here.