Back to Hub
'Collabs': What Procurement, the Billboard Chart and Supreme Have in Common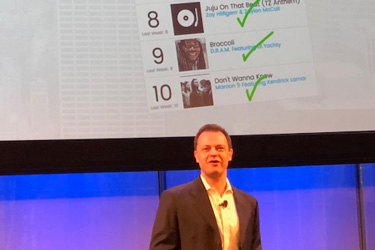 Michael Lamoureux, Xavier Olivera and I are in New York City today at Ivalua Now, the procurement technology provider's customer event. This is my first time at an Ivalua event, and while the North American conference is not the same as the provider's now famous Paris event — it is a true show, according to my colleagues — it's great to see such a strong global source-to-pay technology provider build substantial traction in North America, in both the private and public sectors.
For more insight on how Ivalua stacks up against other competitors, see Spend Matters SolutionMaps.
Alex Saric, Ivalua's CMO, kicked off the morning's festivities with a quick introductory presentation highlighting parallels between music and procurement. One of these, which I think is ingenious, is the notion of "collaborations" in the recording industry. Saric extended the concept to procurement partnering with the business.
According to Billboard and Economist data Saric shared, the number of collaborations (or "collabs") in the music industry is rising. In short, more and more artists are jointly producing tracks that top the charts instead of going solo in their efforts. This is not Michael McDonald singing backup on a Steely Dan or Donald Fagen track; it's a true "collaboration" between musicians.
The notion of collaboration is precisely what procurement must do to be successful these days in partnering with both stakeholders (e.g., finance, supply chain, HR) and frontline users purchasing everyday items and services.
Collaborations have become the norm for hot retail brands, too. Take Supreme, the skateboard and urban street clothing brand that kids love these days — OK, I admit to owning at least one Supreme item — whose partnerships with LVMH, The North Face, Nike and others help the brand to sell out certain SKUs in less than a minute after they go on sale (a "drop" in street parlance).
Or take my own favorite old fogey running shoe brand, New Balance, doing a collab with my go-to travel clothing brand, Ministry of Supply. (See? Even middle-aged guys can get into this collaboration thing.)
Saric is onto something with this collaboration concept as it pertains to procurement. After all, how can we magnify the "voice of procurement" if we don't speak as one with the business?
We've been thinking about this concept at Spend Matters, too, particularly how we can do a better job serving the needs of our readers, subscribers and customers. For example, expect a stronger focus on collaboration and user experience (UX), including input from design experts outside of Spend Matters, in our solution reviews going forward, which you may have already seen in our procurement technology UX PRO series that started last year.
Thanks, Alex, for sharing such an important concept. What a great way to kick off the day.
Stay tuned for additional live dispatches today. Up next: David Khuat-Duy, Ivalua's founder and CEO, on the provider's R&D investments and product roadmap.
Related Articles
11/27/2018

11/11/2016

AP/I2P

CLM

EPRO

P2P

SOURCING

10/29/2018

04/08/2019

11/07/2018
Related Articles
11/27/2018

11/11/2016

AP/I2P

CLM

EPRO

P2P

SOURCING

10/29/2018

04/08/2019

11/07/2018