Back to Hub
Veraction Merges With Trax Technologies: A Q&A with CEO Chris Connell (Part 1)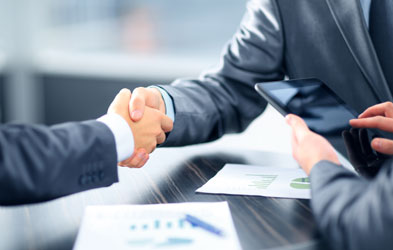 Earlier this summer, Veraction, a provider of transportation spend management and freight audit software, announced it would merge with Trax technologies, a provider of global freight audit and payments solutions. The combined company, which is retaining the Trax name, manages more than $10 billion in logistics spending across all transportation modes for more than 300 enterprise customers, according to a press release.
To learn more about the transaction, as well as what companies like Trax can offer to procurement and supply chain organizations, we sat down with Chris Connell, former CEO of Veraction and now CEO of the combined Trax Group. In Part 1 of this interview, Connell provides an overview of the transportation management industry, an introduction to Trax's products and a projection of the company's biggest growth areas. Stay tuned for Part 2, as well, in which Connell forecasts where the transportation and logistics markets are going, including the potential asteroids that could disturb the whole ecosystem.
Jason Busch: Can you give us a history of the firm overall, as well as a 30-second elevator pitch you would use to explain it to a supply chain head?
Chris Connell: Let me actually take a step back and talk about the industry itself. The industry has been around for decades essentially helping people make sense of the complicated invoices they receive from carriers, making sure they pay them the right amount, and then helping them make those disbursements, whether the provider does it on their behalf or just provides instructions to the customer about the carriers requiring payment.
The industry is fragmented and big. As an industry, it has not innovated or invested in itself in years, and I would say that historically, its value has been largely administrative – take this big pile of invoices off of my desk and take care of them for me has pretty much been the basic service. Today, it's becoming a lot different as customers are looking for more value in terms of helping them control their transportation spending, and frankly, a lot of our peers struggle with this.  One of the reasons our merger with Trax makes such sense is because they, like us, are very like-minded in terms of what our industry should be delivering to customers.
We are really solving a spend management problem for our customers.  People can call it freight audit. They can call it bill payment. They can look at it as accounts payable outsourcing.  But at the end of the day, this is fundamentally about managing spend, and to do that, people have to be able to see what they're spending, and they have to be able to control it. Our pitch is really easy: we help people control and manage their transportation spend better than they ever have before. It's important, because transportation as a cost category is significant in most companies and, frankly, I'd argue it's been neglected largely because it's complicated and very dynamic.
At Trax we're allowing customers to manage transportation with the same rigor and discipline that they apply to direct materials. That's the promise of our new combined company. That's what we're bringing to transportation, and we're really excited about it. We think our approach makes a massive difference. If you think about transportation with the proliferation of omni channel in the retail sector or if you think about manufacturing companies with longer and longer supply chains, you can see that this creates more demand for transportation, and managing that cost is critical. We see this often.  At Trax, we have customers with as much as a billion dollars in transportation spend. A small difference on that spend can generate six and seven figure opportunities for them in terms of savings. That's a significant cost lever for their business.
JB: Tell me a little bit about Trax. What do you see Trax bringing to Veraction? Is it about scale, is it about any standard products, is it about industry synergy?
CC: At a high level, it's about all of the above. Trax, like us, has a long and storied history in the industry. They've been around for over 20 years and have been really focused on freight. At Veraction, parcel has historically been a bigger part of our mix. Together, we have critical mass in both parcel and non-parcel spending and the combination is very complementary.
More importantly, both of us have been on the exact same journey in terms of transforming freight audit into something much more important like spend management.  Both have been focused on investing in our solutions and aggressively innovating and it just made sense to combine our efforts – that's when the real arguments around scale and synergy started to enter the conversation. It just makes sense for us to lift and separate ourselves from the pack. The merger makes us significantly bigger than our next closest competitor and gives us all kinds of advantages.
JB: What does the current product solution service portfolio look like, and what areas are you seeing the biggest growth in, both product-wise and then potentially industry-wise?
CC: The first key capability for us is data management. Being able to ingest and onboard a customer's carriers and their data is critical.  We enhance that data by pulling in source files from a customer such as files from a warehouse management system or a TMS or a financial system and then actually supplement the carrier's invoice with all of this additional data to create an enhanced view of any transaction. This is foundational to everything else we do.
The second key component is the actual compliance component, where we compare your invoice against the contract and make sure you're paying the exact right amount, call out any exceptions, and help to resolve any issues.
The third component of our solution is interesting. It's called financial classification, or cost allocation. Not only can we process an invoice from a carrier and compare it against the contract, but we can also push transaction information back into a customer's ERP or their financial system the exact way they want it, so they can allocate these costs to a cost center or specific account.  Some of our customers even push it all the way down to a SKU. In other words, if you had $100 in transportation charges, we could figure out how much goes to a sneaker, how much goes to a shoelace, how much goes to the box that it is in. That's super powerful, because now customers gain a granular level of visibility that enables them to make much more powerful spending decisions.
The fourth component is payment. We can pay their carrier directly or provide them payment advice. Today, we pay about 2 billion dollars a year on behalf of our customers out of the 10 billion we manage annually.
The final component is intelligence and analytics — helping customers get the most out of the rich data our process produces. We're able to provide our customers with a really rich reporting suite and very robust BI tool called TSI Insights that lets customers figure out what happened – where did I spend my money, with whom did I spend it, and what changes are happening within my spending?
We are also able to help our customers compare their spending over a time period or against a plan or against a benchmark, and show them with the click of a mouse why that spend increased or why it decreased and showing them the key influencers that caused the change.  For example, we can tell somebody that of their 10% increase in spending, 62% of it came from fuel, 32% of it came from the service level and 5% came from accessorial charges by the carrier. Basically, we are allowing customers to perform a root cause analysis quickly so they can take corrective action.
We call this variance analysis and it's a very exciting capability.