Back to Hub
Commodities Roundup: Natural Gas, Steel Shipments, and Global Zinc and Lead Deficits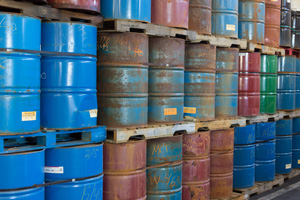 For the buyers and category managers out there, especially those of you deep in the weeds of buying and managing commodities, here's a quick rundown of news and thoughts from particular commodity markets.
From price movements to policy decisions, our MetalMiner editors scour the landscape for what matters. This week:
Natural Gas
MetalMiner's Stuart Burns took a dive into the world of natural gas earlier this week.
"Natural gas producers are systematically hedging their sales throughout next year, often a sign they plan to continue an aggressive policy of drilling and expansion," he wrote. "That activity has contributed to a dipping of forward prices, as there are more sellers in the futures market than buyers.
"But inventory levels are low — some would suggest dangerously low — after a high summer demand due to hot weather increasing demand for air conditioning. Natural gas "power burn" surged to a record 37.7 billion cubic feet per day during July, the Financial Times reports."
He pointed out volatility levels in the sector generally rise in the winter months.
"Volatility is traditionally lower in the slacker summer months and rises as demand ramps up in the winter. If inventory levels are high, investors are less prone to panic, rightly seeing ample supply," Burns wrote.
"But when inventory levels are low, volatility is placing complete faith in the shale producers to meet rising demand — a faith that may yet prove misplaced."
U.S. Steel Mill Shipments Rise
U.S. steel mills saw their shipments rise 3.2% year over year in June.
Shipments through the first six months of the year are up 3.6% year over year.
Zinc, Lead Deficits
The International Lead and Zinc Study Group released preliminary data on the first half of the year, showing that both the global zinc and lead markets were in deficit.
Chinese data for the second quarter is still unavailable, meaning the numbers will likely be revised at a later date. However, with estimates filling in the gaps, the first half saw a 39-kt lead deficit, plus a deficit of 17 kt for zinc.
Both LME zinc and lead prices have been sliding over the last month. Zinc, however, bounced back this past week, rising from $2,234 per ton Aug. 15 to $2,438.50 on Aug. 22. The price has dropped down from $2,683.50, reached on Aug. 9.
Lead prices, meanwhile, traded sideways this week after falling 8.7% in the month up to Aug. 17.
Turkey Wants U.S. Consultations
Turkey is looking to hash things out with the U.S. at the WTO level, as the country filed a request with the global trade body seeking consultations with respect to the U.S.'s recently elevated steel and aluminum tariffs.
President Trump announced earlier this month that the U.S. would double its metals tariffs on Turkey, raising them to 50% and 20% for steel and aluminum, respectively.
The U.S. Dollar and Commodities
Burns also touched on the inverse correlation between the U.S. dollar and many commodities.
The ascendant dollar has lost a bit of steam of late, which has in turn offered support to commodities prices.
"Brent oil settled at $72.21 a barrel, up 0.5%, after some volatility while U.S. West Texas Intermediate was 0.8% higher at $66.46," he wrote. "Gold was up $5 at $1,189 an ounce, after hitting an 19-month intraday low of $1,160 last week. Commodities generally trade inversely to the dollar; if the dollar weakens, as it has this week, commodities tend to rise."
The U.S. dollar index sat at 95.53 as of early Thursday afternoon.
Focusing on China
The Aluminum Association recently sent a letter to the Trump administration in which it called for the government to address Chinese overcapacity.
"At the same time, the association's member companies have a shared belief that China's trade distorting behavior drives massive structural overcapacity in both primary aluminum production and downstream products," said Heidi Brock, president and CEO of the Aluminum Association. "This is a foundational problem confronting the industry not only in the United States but also around the world. For this reason, the Association has supported trade remedies that focus on China and leave market economies harmless."
Despite ongoing capacity cuts, Chinese primary aluminum output increased 3.0% year over year for the January-July period, according to National Bureau of Statistics data.
Coal Problem
India's top coal producer has struggled to meet growing demand in the country, which has meant a rise in coal imports, MetalMiner's Sohrab Darabshaw explained.
That producer, Coal India Ltd., however, argues India's railway network is to blame for the inability to deliver according to demand.
Coal imports increased 10% in FY 2018, Darabshaw wrote.