Back to Hub
Commodities Roundup: Falling Oil Price, Steel Production and G20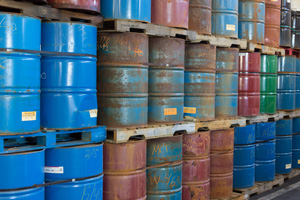 For the buyers and category managers out there, especially those of you deep in the weeds of buying and managing commodities, here's a quick rundown of news and thoughts from particular commodity markets.
From price movements to policy decisions, we scour the landscape for what matters. This week:
Oil Price Falls
After surging earlier in the year, the oil price has come off in a big way, as MetalMiner's Stuart Burns explained earlier this week.
"Brent crude has hit a new low for 2018, with the international benchmark down 3% last week to its lowest level in 13 months," Burns wrote. "West Texas Intermediate, the main U.S. contract, fell 4.5% to $52.09. Investors have taken fright in a relatively short space of time that the market is looking increasingly oversupplied."
Sanctions on Iran have not had as much bite as perhaps initially expected.
"The lackluster application of sanctions on Iran has not helped," Burns continued. "President Trump's waiver of sanctions against most of Iran's biggest clients means expectations of the loss of supply due to sanctions have been rapidly scaled back. Meanwhile, demand projections are softening as global GDP growth expectations are falling. On the supply side, production in the U.S. has surpassed expectations."
Global Crude Steel Production Up 5.8%
According to a recent World Steel Association report, global crude steel production in October jumped 5.8% year over year.
Chinese production jumped 9.1% year over year, reaching 82.6 million tons, while U.S. production, at 7.6 million tons, rose 10.5%.
U.S. Steel Imports
On the import side, U.S. imports of steel in October reached 3 million metric tons, up from 2 million metric tons the previous month.
However, through the first 10 months of a year during which the U.S. imposed a 25% steel tariff, imports are down 11% compared with the dame time frame in 2017.
Import market share for the year to date hit 21%, according to a recent American Iron and Steel Institute (AISI) report.
China Steel Mergers
Sticking with steel, Burns delved into what might become a growing trend in the Chinese steel sector: mergers.
According to a Reuters report, state-owned Baowu Steel is in talks to acquire the rival Magang Group. Per the report, Baowu churned out 65.39 million tons of steel in 2017, compared with 19.71 million tons for Magang. The combined output of the two would come in just below ArcelorMittal's production last year and 3.5 million tons greater than U.S. production.
GM Setting the Pace?
In light of GM's announcement this week of cost-saving measures, including the closure of five North American assembly and propulsion plants, Burns pondered whether other automakers might follow GM's lead.
According to GM, its measures will save approximately $6 billion in costs. The moves drew criticism from President Donald Trump.
"Judging from the howls of protest on Capitol Hill, politicians do not agree with analysts' estimates that General Motors' decision to shed 15% of its workforce and close seven facilities worldwide is the act of a smart first mover in an industry facing seismic changes," Burns noted.
The plant closures include Oshawa Assembly, in Oshawa, Ontario, Canada; Detroit-Hamtramck Assembly in Detroit; and Lordstown Assembly in Warren, Ohio. Propulsion plants in White Marsh, Maryland, and Warren, Michigan, will also be closed. Two plants outside of North American will also be closed.
In terms of its workforce, GM moved to reduce its salaries and salaried contract staff by 15%, according to a company release.
However, GM acting in a such a way, not long after reporting healthy third-quarter financials, signals other companies may follow suit.
"It's believed the writing is on the wall, as unused capacity across the U.S. car industry amounts to 3.2 million vehicles annually, of which GM accounts for 1 million. GM's closure would see it all but abandon passenger cars, including the Chevrolet Cruz and the hybrid Volt," Burns explained.
Talking Tariffs
Ahead of the much-anticipated G20 summit kicking off today in Buenos Aires, a number of industry executives talked about a pair of policy items dominating attention these days: the U.S. Section 232 metals tariffs and the United States-Mexico-Canada Agreement (USMCA), which Mexico's economy minister said he expects will be signed during the summit.
During a panel discussion in Washington, D.C., a number of executives were critical of the metals tariffs, including Aluminum Association President and CEO Heidi Brock, who renewed the industry group's call for quota-free tariff exemptions for Canada and Mexico.
On aluminum, Buddy Stemple, CEO of Constellium Rolled Products, said the blanket aluminum tariff is "the wrong solution to a real problem," adding the tariff makes the U.S. aluminum sector less competitive on the world stage.