Back to Hub
Q2 2019 SolutionMap: Sourcing, Analytics, SRM and CLM software providers' scoring summary reports now available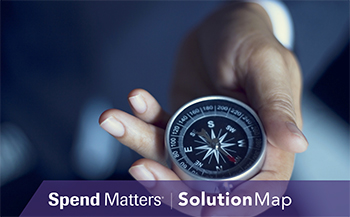 Spend Matters recently released its Q2 2019 SolutionMap procurement technology benchmark rankings of 54 procurement software companies across 12 solution categories.
As part of the Q2 2019 SolutionMap release, the Sourcing, Spend & Procurement Analytics, Supplier Relationship Management (SRM) & Risk, and Contract Lifecycle Management (CLM) Provider Scoring Summary reports are available today on SolutionMap Insider.
What is a Provider Scoring Summary?
SolutionMap Provider Scoring Summaries are released quarterly alongside the latest SolutionMap rankings for a more nuanced performance view of each ranked provider. The summary solution scoring contains a breakdown of a provider's scores relative to the overall average for a selection of sub-category requirements and capabilities (click on the thumbnail to view a sample page).
New this quarter, the reports also contain a full-page breakdown of those providers that have achieved Value Leader, Solution Leader or Customer Leader status by persona in each solution category of the Q2 2019 SolutionMap.
Missed the "SolutionMap 101"? Get it here.
Upcoming Reports
The reports for the Strategic Procurement Technology (SPT) Suites view & Source-to-Pay (S2P) Suites, along with the Contingent Workforce & Services technology categories, will be published on SolutionMap Insider next week.
Reports already published include E-Procurement, Invoice-to-Pay and Procure-to-Pay.
Round Out Your Procurement Software Roadmap: SolutionMap Insider
On a self-service basis, anyone can sign up for our SolutionMap Insider subscription. This includes members-only access to Provider Scoring Summary reports and to ratings of all participating procurement software companies.
The subscription features:
Provider Scoring Summary reports for SolutionMap providers, which in addition to Summary Solution Scoring include:

Ranking overviews by buying persona
Buying recommendations and considerations

Quarterly updates to SolutionMap Summary Solution Scoring
SolutionMap results interpretation (Release Notes) and persona deep-dive articles
Exclusive historical views of SolutionMap rankings and support materials (beyond current quarter)
Learn more here, including how to contact us for more info, such as pricing. (Discounts are available for multiple subscription areas.)