Back to Hub
Blockchain, AI offer big savings in transportation and logistics, PwC survey finds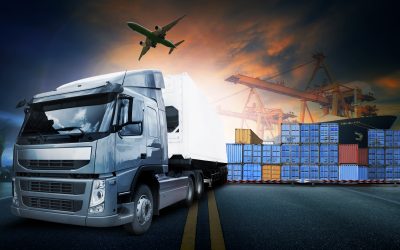 Blockchain and artificial intelligence are bringing rapid change to the normally slow moving transportation and logistics industry, according to PwC in its recently released Transportation and Logistics Trends 2019 report, which is part of its annual CEO survey.
The pressure to offer new and better service is on for transportation and logistics (T&L) executives, who reported confidence in revenue growth for their organization over the next 12 months at a five-year low — with just 29% saying they were confident that revenue would grow during that time, said the report, which included 143 CEO respondents in the T&L industry.
PwC sees blockchain technology as a potential source of relief from logistics bottlenecks that occur as a result of low transparency between different organizations and the many authorizations and procedural documents that must be gathered in order for international shipping to occur. As examined in Spend Matters' recent blockchain roundup report, several shipping companies around the globe have formed working groups or consortiums to coordinate their blockchain efforts, including the TradeLens program spearheaded by IBM and Maersk, the Global Shipping Business Network, and the Blockchain in Transportation Alliance.
Beyond international shipping, blockchain is increasingly seen as a key component in increased efficiencies within "last-mile" shipping programs for companies like UPS and Amazon.
Combined with traditional RFID tagging and increasingly common internet-of-things technologies (IoT) that allow carriers to know the location of goods in transit at all times throughout the shipping process, blockchain allows deliveries to be grouped by neighborhood or even apartment buildings, consolidating redundant deliveries by several carriers throughout the day and allowing more packages to be delivered by a single carrier.
Artificial intelligence (AI) is another area where PwC sees potential for efficiency improvements in logistics operations.
Continuous monitoring of fleet vehicles can reduce fuel costs by ensuring drivers are driving with fuel-efficient habits. AI can see route consolidation opportunities and other fuel- and time-saving measures that are difficult for humans to discern from millions of data points.
Also sensors to monitor equipment can help develop a preventative maintenance schedule that curbs costly breakdowns or delays. AI does that by monitoring trends among fleet vehicles to optimize maintenance scheduling for issues that arise unexpectedly but follow a pattern that would be difficult for human observers to recognize, like a faulty part that breaks only as the result of some other maintenance or equipment modification.
PwC notes that truck manufacturers Daimler and Isuzu have moved into the logistics business by outfitting their vehicles with IoT sensors and software to scan packages more easily while being loaded and delivered. The software also uses AI to help drivers load packages more efficiently, matching positions inside the vehicle with the order of delivery to prevent hunting for the right parcel on location and speed the loading and unloading process.
With more precise data on the location of products within a delivery container, like a refrigerated truck, precise zone climate control becomes much more feasible, allowing deliveries to be further consolidated. A properly outfitted truck that once exclusively delivered refrigerated perishable goods to grocery stores might instead have only half its capacity outfitted for refrigeration, with the remaining space occupied by non-perishable or other goods. This approach could reduce the minimum size of bulk delivery of perishables and lead to less wasted food and energy consumption from a smaller overall refrigerated section, while also delivering canned or shelf stable goods in an uncooled section of the same truck, eliminating the requirement for a second delivery by another vehicle.
In spite of the promise of blockchain and AI, a traditionally slow-to-change industry and tight margins have T&L executives holding back on investments for now. PwC reports in its CEO survey that 40% of industry executives have no plans to pursue AI projects, while an aggregate 23% of executives in other industries say the same.
Blockchain and AI innovations may also have a significant effect on how staffing decisions are made at the warehouse level for many T&L organizations. When inputs are based on actual shipment demand levels instead of forecasts, warehouses can queue up workers based on known operational needs days or even weeks in advance of actual need, rather than paying peak demand workers when it is only suspected they will be needed, and unclear precisely where and when within the system their support will have the greatest impact.
In a related opportunity, deep, up-to-date knowledge of shipping supply and demand can enable dynamic pricing whereby costs to customers are increased when demand is high and the marginal gain from handling additional packages is lower at the original price than the cost to the courier to ship it, and costs are lowered when demand is so low at the original price as to leave unused shipping capacity.
Both strategies reduce inefficiency and could lead to substantial savings in costs and fuel emissions when implemented at scale.