Back to Hub
Q3 2019 SolutionMap Release Notes: E-Procurement, Invoice-to-Pay and Procure-to-Pay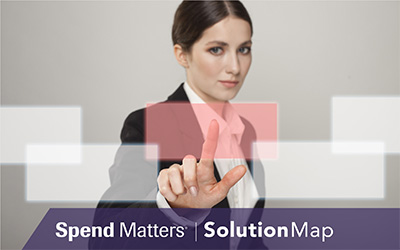 This Spend Matters SolutionMap Insider Release Note provides insight into the Q3 2019 SolutionMap release for E-Procurement, Invoice-to-Pay (I2P) and Procure-to-Pay (P2P), reviewing the process that we follow and highlighting what has changed since the last release.
The E-Procurement, I2P and P2P customer reference set added 19 new individual customer references in Q3. There were no new providers added for Q3, although Zycus has successfully been scored against the new Q2 2019 RFI requirements for the first time.
As Jaggaer has unified three of its product lines — Jaggaer Indirect, Jaggaer Direct and Jaggaer Advantage — into Jaggaer One, which allows customers and prospects to select the best modules from each offering to fit an organization's unique needs, Spend Matters has broken out the naming convention for the Jaggaer offerings more specifically for Q3 2019 SolutionMap in the persona ranking graphics. This means that in the E-Procurement category this quarter, the solution/product formerly known as Jaggaer Indirect is now listed as: Jaggaer eProcurement.
Please note: as none of the Jaggaer product lines have yet been evaluated against Q2 2019 RFI requirements by the Spend Matters analyst team, they are not able to appear in this quarter's editions of the Provider Scoring Summaries. Please refer to the Q1 editions for their latest scoring.
Most of the providers participating in the Q3 2019 SolutionMap release for E-Procurement, I2P and P2P will fully update their RFIs in next quarter's cycle (Q4 2019) and receive updated scoring following the submission and demonstration of new and updated capabilities based on production releases of their platform. (Non-GA capabilities are not considered in SolutionMap scoring.)
This SolutionMap Insider research note provides insight into these and additional changes in the Q3 2019 SolutionMap release.
(SolutionMap Insider members: access the Q3 Provider Scoring Summary reports right here.)
Related Articles
12/24/2020

12/09/2020

AP/I2P

CLM

EPRO

P2P

SOURCING

04/03/2018

02/22/2019

10/31/2019
FEATURED COMPANY
FEATURED COMPANY
Related Articles
12/24/2020

12/09/2020

AP/I2P

CLM

EPRO

P2P

SOURCING

04/03/2018

02/22/2019

10/31/2019