Back to Hub
Q3 2019 SolutionMap Release Notes: Source-to-Pay Suites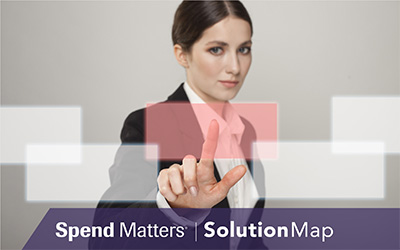 This Spend Matters SolutionMap Insider release note provides insight into the Q3 2019 SolutionMap release for Source-to-Pay, reviewing the process that we followed for this quarter's release.
The providers in the Q3 2019 Source-to-Pay SolutionMap include Coupa, Determine, GEP, Ivalua, SynerTrade and Zycus. All of these providers were required to participate in SolutionMap for each underlying module, as well. These individual areas include Sourcing, Spend and Procurement Analytics, Supplier Relationship Management & Risk, Contract Lifecycle Management, E-Procurement and Invoice-to-Pay. All of these providers are also included in the individual Strategic Procurement Technologies (SPT) and Procure-to-Pay (P2P) suite views.
SAP Ariba did not update their scoring and, as a result, had their scores adjusted based on a common shift factor (that preserves positional integrity relative to peers) and any platform updates, or lack thereof, that the analysts have received since the last time the RFIs were filled out. We expect them to participate in upcoming releases.
The Source-to-Pay customer data set is composed of a subset of the 831 individual organization references included in the overall SolutionMap scoring as of Q3 2019*.
This SolutionMap Insider research note provides insight into the nature of the expanded RFI, methodology, customer references and additional changes in the Q3 2019 SolutionMap release.
(SolutionMap Insider members: access the Q3 Provider Scoring Summary reports right here.)
*Customers using more than one module that a vendor provides can opt to fill out a single survey within each individual suite area (e.g., a customer using two modules for P2P and four modules for SPT would need to fill out only two surveys).