Back to Hub
Ivalua: What Makes It Great (Supplier Relationship Management and Risk SolutionMap Analysis)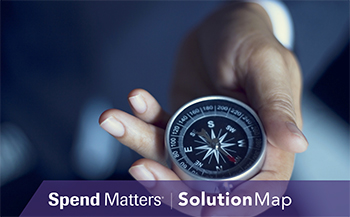 Having reached "unicorn" status as of May 2019, Ivalua is no longer a vendor that needs thorough introduction. In fact, the solution provider with European roots now has almost 50% of its the customers and employees based in North America and is likely one of the fastest growing privately held source-to-pay procurement suites in the market.
This is thanks in large part to its engineering approach: Its entire suite was built in-house on a single platform over the last 19 years, placing it in a small group of providers that offer an end-to-end solution on a single technology stack. And the benefits of this philosophy are perhaps nowhere better illustrated than in Ivalua's supplier management capabilities, which because of the platform's common data model can capture, manage and integrate not only core supplier information but also the entire lifecycle of supplier activity from a truly 360-degree perspective.
As of Q2 2019, the Spend Matters SolutionMap contains functional and customer satisfaction benchmarks on more than 50 providers within the procurement technology landscape. But where does Ivalua stand out most and help "set the bar" in supplier management, and why should this matter for procurement and finance organizations?
Let's delve into the SolutionMap benchmark to find out where Ivalua is great.
"What Makes It Great" is a recurring column that shares insights from each quarterly SolutionMap report for SolutionMap Insider subscribers. Based on both our rigorous evaluation process and customer reference reviews, each brief offers quick facts on the provider, describes where it excels, provides hard data on where it beats the SolutionMap benchmark and concludes with a checklist for ideal customer scenarios in which procurement, finance and supply chain organizations should consider it.
Series
SolutionMap: What Makes It Great
FEATURED COMPANY
FEATURED COMPANY