Back to Hub
Contractor, supplier relationships come with many financial risks, Avetta warns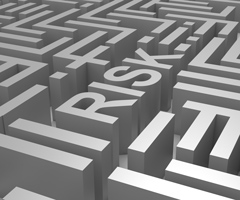 Managing supply chain risk is an important area of focus for companies to consider when working with suppliers and contractors at various levels of business.
A recent study from the business-qualifying firm Avetta, "The Importance of Assessing Supplier Financial Stability," evaluates an array of research on the issues and pinpoints the many risks that companies face when choosing and working with contractors and vendors.
"New regulations across the globe continue to shift responsibility from contractors to the companies that hire them," Richard Parke, Avetta's senior vice president of supplier services, told Spend Matters. "As a result, companies need to be vigilant, now more than ever, when they bring a temporary worker into a project. Anything that affects that worker or vendor's ability to complete the project has the ability to affect the company as well, financial instability included. A thorough and robust supplier prequalification solution helps companies in this area get the visibility they need to make sustainable and safe business decisions."
Companies can mitigate risks in these relations by maintaining awareness of their suppliers' and contractors' revenue and other financial factors, Avetta said in the study.
Supplier relationships can pose varying levels of risk, the study notes.
"Some contractors and suppliers may be critical to your operations, while others play a smaller role and present less of a threat to business continuity," Avetta said in the study.
Companies can also face risk in the supplier relationship when one segment of the supply chain fails or when one supplier or contractor is unable to meet the expectations of their role in the chain or fails to meet the qualifications of a contract.
Avetta recommends that companies become aware of a supplier or contractor partner's financial standing before agreeing to work with the company.
Experts also discourage companies from putting all of their eggs in one basket or relying on just one supplier or contractor to provide a certain good or service. Avetta warns that a company's ability to produce its offerings could be severely stifled if that supplier or contractor becomes unable to hold up their end of the contract.
"Relying on any one supplier for a business-critical product or service makes a company extremely vulnerable to forces outside its control," the study says.
Know partners' financial standing
Companies can save time in the long run by investing time and resources into ensuring they have a full picture of their partners' financial standing ahead of building their supplier and contractor relationships. By doing this, companies can avoid costly and time-consuming stumbling blocks later in the supply chain, Avetta said in the study.
Ensuring that a company's supplier and contractor partners are in a financial position to uphold their end of a contract also better enables a company to remain capable of providing its goods and services according to the deadlines its customers, shareholders and investors expect, the study said.
Companies can also benefit from bolstering their reputations over time by avoiding delayed or unsatisfactory service caused by unreliable suppliers or contractors. Having a good reputation and track record can boost companies' return on investment by gaining repeat customers.
Avetta notes that companies can lose money down the road if a supplier or contractor partner is no longer capable of supplying what they need, causing the company to spend time and finances on acquiring a new supplier and causing delays in the supply chain.
Avetta also suggests that companies should view developing long-term, stable business partnerships as an important investment of time and resources to ensure they have a viable working relationship and can rely on the supplier in the future.
"Entering blindly into a supplier relationship by failing to monitor existing suppliers' financial health exposes a company to project delays, damaged reputations, lost revenues and wasted time," the study said.
Financial risk assessments
Verifying a partner's financial stability by completing financial risk assessments regarding suppliers is also useful, Avetta said. The study notes the importance of maintaining updated information and suggests that companies consider using third-party solutions to track such updates. Third-party organizations can be used as a solution to aggregate, verify and track suppliers' financial information, in addition to other relevant with compliance data.
Staying up to date on additional information such as a supplier or contractor's annual revenue or third-party financial ratings can enable companies to better predict the benefits and longevity of a particular partnership and to successfully mitigate risk.