C2FO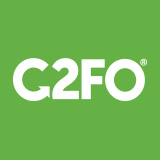 At C2FO, our mission is to deliver a future where every company around the world has the capital nee
Company Info
Address
2020 W 89th St #200, Leawood, Kansas, 66206, United States
Email
sales.support@c2fo.com
Website
50 to Know / 50 to Watch / Future 5
About C2FO
At C2FO, our mission is to deliver a future where every company around the world has the capital needed to grow. As one of the largest online platforms for working capital, we serve over one million businesses worldwide representing more than $10.5 trillion in annual sales. Our solutions help companies, their suppliers and their customers gain greater control over their cash flow — on demand when they need it.
C2FO stands for "Collaborative Cash Flow Optimization." But that only explains part of our role as one of the world's largest online platforms for working capital.
In 2008, we began building a digital working capital platform that matched the accounts receivable and accounts payable for hundreds of thousands of companies. This digital solution enabled suppliers to receive early payment on their invoices, at discounts that they determined. Their customers used the invoice discounts to safely increase margins and profits, while ensuring the health of their supply chains.
Since our first transaction in March 2010, C2FO has generated more than $110 billion in working capital funding and accelerated payment by more
than one billion days for companies in 183 countries. Headquartered in Kansas City, C2FO today has expanded to operation centers in Europe, China, India and Australia.
At the same time, we have evolved to provide more working capital solutions to companies, their suppliers and their customers. Our clients today can use the C2FO platform to accelerate or extend payment to their suppliers, and also accelerate or extend receivables from their customers. They can use their own balance sheets or third-party funding from C2FO's network of lending partners to adjust the timelines on AP or AR, providing more flexibility and control over working capital for everyone in their ecosystem.