Exari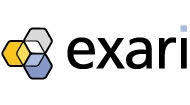 Exari was founded by lawyers who recognized that contracts were broken. Our team is made up of experts with strong legal backgrounds and a unique combination of business savvy and technological prowess that enables us to not only truly understand your business and your pain points, but also transform your contract problems into visibility and risk solutions.
At Exari, we know how important contract management is to your company and we've built our software to give you the tools you need to manage the entire contract lifecycle—from contract creation and capture to approval and monitoring.
In addition to an unparalleled list of benefits and features, Exari solutions offer several key points of difference that separate us from the rest of the pack:
• Open Systems – From the beginning, Exari technology was built on XML to allow for open standards, providing increased visibility into data to help you better manage compliance, mitigate risk exposure and act on contractual revenue opportunities.
• Ease of Integration – Opens systems and standards enable Exari's powerful API and workflow to easily integrate with other critical systems including CRM (Salesforce.com), ERP (SQL databases), Sharepoint and DMS. Exari also participates in various standards efforts.
• Global Presence – Unlike most of our competitors, Exari is a true global contract management and document automation company with operations around the world.
Company Info
Address
745 Boylston Street, Boston, MA, 02116, United States
Website
50 to Know / 50 to Watch / Future 5